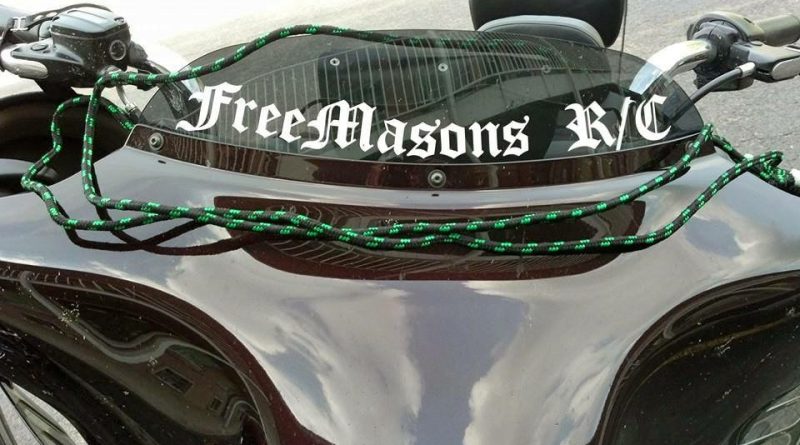 The Free Masons RC, A Masonic Riding Club.
The Free Masons Riding Club is an association founded and designed specifically to introduce motorcycling Free Masons to one another. We are comprised entirely of Freemasons with a love for freedom that is only found on two wheels, riding in the wind. We find our best place working in our communities, supporting various causes and charities, especially while riding with our Brothers.
The Free Masons RC is a riding club composed of Master Masons. It is a nationally established and quickly growing organization. We have members in all 50 States and 6 foreign countries. The Free Masons RC is a great organization used to positively promote motorcycling and Freemasonry. We participate in many benefit rides and toy runs. We enjoy riding to visit other lodges, attend outdoor degrees, dinner rides or just a social ride to share the open road and fellowship with our Brothers.
If you are a motorcycle enthusiast, or know of a Brother Mason that is, and are interested in becoming a member of the club please check out the info listed below.
–This organization is more about fun and fellowship than anything else.
Our main rule,
Conduct yourself accordingly when wearing the Freemasons RC Insignia. Act as if you were in Lodge.
-Membership to the Free Masons Riding Club is limited to Master Masons, in good standing in their lodge within their State or Territory.
-Membership is lifetime, with a one-time fee of $75.00. All new members receive a small Patch, Decal and Membership Card. The Membership Card is valid, as long as you hold a Current and Valid Dues card from your Blue Lodge. Membership fee does not include the cost of a Back Patch (Shield). Back Patches remain the property of Free Masons Riding Club. There is a lease fee of $75.00 for the Back Patch. We refer to the Back Patch as our Coat of Arms. If you want a Coat of Arms, let us know. Please indicate on your application if you want a Back Patch and include the cost in your membership fee. It is not required that you have one.
-All Membership to Free Masons RC is through the Grand Chapter ONLY. Join online today at www.freemasonsrc.com
If you join a Chartered Chapter, your chapter may have yearly dues. Each Chapter decides if and what amount the dues will be.