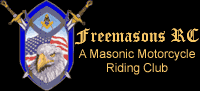 A Masonic Motorcycle Riding Club.

Welcome to the fastest growing Masonic Motorcycle Organization in America. With over 2000 members, we are one of the largest groups of Motorcycling Masons in America.
Just by clicking on the link to this page, you have expressed an interest in this organization. Whether you want to join the Free Masons Riding Club or start a Chapter, you have come to the right page. Fun & Fellowship is what this organization is about.

The main thing we wanted to eliminate with this organization, was the political problems, and the 'structure'. The jockeying for position and supremacy seems to be the biggest problem for most organizations.

We really want this organization to be more about fun and fellowship than anything else. Our main rule. Conduct yourself accordingly when wearing the Freemasons Insignia. Act as if you were in Lodge.

Membership to Free Masons Riding Club is limited to Master Masons, in good standing in their lodge within their State or Territory.

A Lifetime** Membership is $75.00. All new members receive a small Patch and Membership Card. The Membership Card is valid, as long as you hold a Current and Valid Dues card from your Lodge. The membership fee does not include the cost of a Back Patch. Back Patches remain the property of Free Masons RC. There is a use fee of $75.00 on the back patch and is for the duration of your membership. The Back Patch must be returned upon separation from the FMRC. We refer to the Back Patch as our Coat of Arms . If you want a Coat of Arms, let us know. It is not required that you have one.
All Membership to Free Masons RC is through the Grand Chapter only
Or if you would like to join via snail mail you can download and print the Application here.
Join Free Masons Riding Club

We also have the newly formed Ladies Auxiliary. A sister organization that is an option for the ladies of our Members. Members please contact us via email or phone to get a lady signed up.
Free Masons Riding Club
208 Riverview Pl, Groesbeck, Texas 76642 Phone 713-542-0887
Email:
The FMRC


When joining the Free Masons Riding Club, please be advised that if you join online, it takes up to 4 days* or so to process your application. When mailing your application in, it may take as long as 2 weeks*.

* Does not include weekends and holidays
** Lifetime Membership is subject to holding a Current and Valid Dues card from your Lodge and the Agreement and Terms of the Free Masons Riding Club